Rocky Mountain National Park Area
July 2006
Below are photos of Rocky Mountain National Park and the surrounding area
taken in July of 2006 by myself and my wife Bridget. The photo of a
Mule Deer below was taken by our 13 year old daughter, Casey.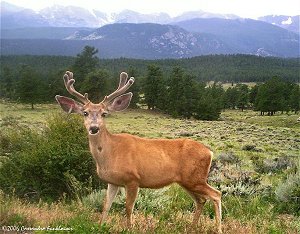 All Photos ©2006 Darrell E. Spangler, Bridget A. Spangler, Cassandra Funkhouser
(Click on images for full size view)
Set 1 - July 19th - Moose Cow and Calf in the Kawuneeche Valley of Rocky Mountain
National Park

Set 2 - July 22nd - Various spots along CO 43 between Estes Park and Drake.

Set 3 - July 22nd - Road trip over to Grand Lake through the Kawuneeche Valley.
---
---